Teddy Riner's former coach drives motorsport stars to judo
1th October 2013.
Teddy Riner's former coach Benoit Campargue is enjoying life in fast lane as the judo coach for Formula 1 and Moto2 stars.
The Olympic sport of judo is well respected for its transferable skills such as coordination, core strength, conditioning and balance. Now the world of motorsport is discovering and reaping the benefits of practicing the sport thanks to Frenchman Campargue.


Benoit Campargue with F1 star Romain Grosjean and Teddy Riner
Judo's practical inclusion in motorsport follows the growing relationship between the International Judo Federation (IJF) and the Fédération Internationale de l'Automobile (FIA), which was established during the IJF's 60th Anniversary Gala in 2011. The two international federations have campaigned for better road safety and this was reinforced when Mr. Jean Todt, President of the Fédération Internationale de l'Automobile, attended the Judo Grand Slam, Baku 2013, in May.


Mr. Marius Vizer, IJF and SportAccord President, with Mr. Jean Todt, FIA President in 2011.
Working with Teddy Riner
World-renowned judo coach Campargue, 48, was voted best European coach by the European Judo Union in 2010 and is known for his work with heavyweight superstar Teddy Riner who he led to gold at the London 2012 Olympic Games.
« I have worked with Teddy for eight years," said Campargue, who during the last three years as France's lead men's coach saw his charges win three world titles, one world team title and 10 world medals.
"With Teddy we won everything: Europe, world and the Olympics. Now Teddy and the French national team are working with a new coach who will offer them a different point of view and this is good. »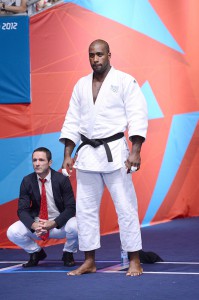 Benoit Campargue with Teddy Riner at London 2012
The 7th Dan, who won European Championship old in 1992 during a stellar competitive career, has always had a passion for motorsport and during the mid-1990s had a brief spell driving in France's 750cc speed motorcycle championship.
Moving into motorsport
Campargue's return to motorsport came from a chance meeting with compatriot and Lotus F1 driver Romain Grosjean who he now trains alongside fellow French speedster Louis Rossi who rides in Moto2 for the Tech3 motorcycle team.
Campargue, who also works in Paris within the sport and health arm of the Sports Ministry, said: "I met Romain in April 2012 and he needed someone to help him get better prepared for his races.
"That is what I've tried to do as much as possible since then. Then I accompanied him on several Grand Prix, especially in Asia. We practiced judo in the Kodokan as well together, between the Grand Prix in Japan (Suzuka) and in Korea (Yeongam). This was possible thanks to the Japanese Federation. They offered us to use the big dojo at the Kodokan which we didn't expect."
After the London 2012 Olympic Games, Campargue decided the time was right for a new challenge and despite his new role he makes the time follow the growth of the sport and its leading exponents.
Lessons from judo
"Even though I love judo, I think that it is important to discover some new things, new functions, other sports environments at one point in my life. It is very rewarding because it gives me the opportunity to have a wider vision of an athlete's preparation. I loved working for the French Judo Federation at a national and international level. I was also thinking of the athletes who knew me since they were cadets or juniors. It was important for them to discover something new to give a different direction to their sports career. I witnessed the same thing in Formula 1 with Lewis Hamilton who went to another team because he was part of the same system for a long period and he needed some fresh air to evolve.
"Judo is my life and this is the reason why current athletes are practicing judo as well and they love it. Romain will become a green belt very soon. Some judoka and foreign federations, such as Mongolia, which is an incredible country, also asked me to advise them. This allows me to stay in touch with the judo world and to offer my services to those who seek them.
« Formula 1 is a specific discipline and is totally different from judo. My motorcycle and judo experiences allow me today, with others, to develop tools, adapt over the specificity of F1. It is a sport of endurance, strength and concentration. It should also include the motorsport aspect."
Campargue focuses on mental preparation and race preparation with his athletes in addition to their on the tatami.
"Judo is a varied and complete sport but we have to adapt to the other disciplines. The most important thing, whatever the sport is, is to get prepared for the big events and to gain enough confidence. At the same time, the proximity with the opponent gives the opportunity to feel something that you cannot feel in any other sport. This allows you to manage the parameters that are very crucial in automobile sports, such as the stress, the control of the emotions and the free time which is necessary to make the right movements and to make the right decisions. This is essential in Formula 1. Judo is a philosophy. There is among other values, the politeness and the respect, two parameters that fit with my athletes."
Judo for all
The judo training helps the French duo to mentally prepare for a race according to their coach.
"In general we have one judo clinic per week. Thus if we have a four week preparation, we practice judo four times. I must be very careful that my athletes don't get injured because they are under contract and must not get injured. This is the reason why it is of high importance that their preparation is of good quality with good planning.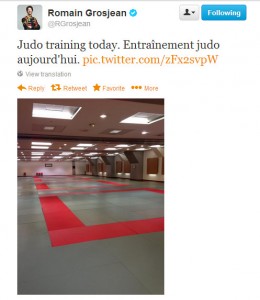 Romain Grosjean shows his passion for judo on Twitter
"Romain, who practices more than Louis, has improved a lot. He learns very quickly and easily becomes passionate. He is also passionate about cooking which he does at a very good level. Judo is a good activity to get some fresh air after a race or to get mentally prepared before a race. The coordination and reaction capacity work must not be neglected as well. Those are important matters within Formula 1. The mechanic sports and Formula 1 in particular are sports where the physical and mental preparation as well as the concentration play a major role. We also find those three domains in judo.
« My new challenge is to put my experience and expertise at the service of French athletes to get them through the course of high performance. I am working with Romain and Louis and it is a pleasure because we have a great mutual trust. I am here to encourage, support and let them pass a new level. »